About Us
For over 30 years, Auxiliary Systems Incorporated has been growing, from a small US Navy feed water provider to a diverse and experienced repair contractor and manufacturer. Auxiliary Systems Inc. was founded in 1990 by Sharon Williams under the name Pure Water Technologies. The company's initial business plan was to generate and supply feed water for US Navy ships and local shipyards. By utilizing the SIMA and FTSCLANT business models, ASI evolved to include machine, electric motor & control, pump, valve, compressor, condenser, air conditioning & refrigeration, weld, boiler, pipe, rigging, chemical, flush, wood, paint, and outside machine shops.

ASIs' growth in experience and capabilities eventually enabled us to become the 009-90 Standard Items OEM Technical Representatives for Aqua-Chem, TechnipFMC, PECOFacet, Tranter, and many other OEM's. ASI acquired Solec in 2007, which is an electric motor rewind/generator shop. In 2010 we acquired Electro-Mech of Virginia, previously a shop for marine and industrial breakers.

By 2011 we had launched the Tranter Service Center, which re-manufactures plate and frame, heat exchangers. In 2013, ASI acquired Eagle Sheet Metal assets, providing us with an ASI brand of sound attenuated generator enclosures. Acquiring the Eagle Sheet assets led to the further development of a line of UL 142 fuel tanks and a line of custom packaged products. In 2014 ASI acquired the assets of AMIS, leading to the opening of a marine pipe shop and Axis Marine. Over the past three decades, Auxiliary Systems Inc. has gained vast experience in the scope of our work. We have completed a significant amount of work as a subcontractor for MSMO, Complex, and other MSR contract holders.
Much of our effort has been behind the scenes providing certified Technical Representatives and depot-level repairs, for auxiliary machinery. During the last decade, we have also transitioned to a formidable Prime Contractor holding multiple Navy, MSC, and Coast Guard IDIQ contracts. Throughout our history, we have consistently performed to the satisfaction of our customers, providing on-time, high-value repairs, and manufactured products. We attribute our success to always striving to uphold our Three Pillars of Success:
Auxiliary Systems, Inc. believes that safety can be achieved through teamwork. Every ASI employee, supervisor, and manager must practice safety awareness by thinking defensively, anticipating unsafe situations, and reporting unsafe conditions immediately. Some of the environments in which we work may have inherent risks, and, therefore every precaution and safety standard must be adhered to with the utmost care. All of our employees are trained on various safety topics, weekly, through our Take 5 Toolbox training.
In the same regard, Auxiliary Systems, Inc. is committed to meeting or exceeding customer expectations through a quality-in-all-we-do philosophy with a total Company effort and commitment to continuous improvement.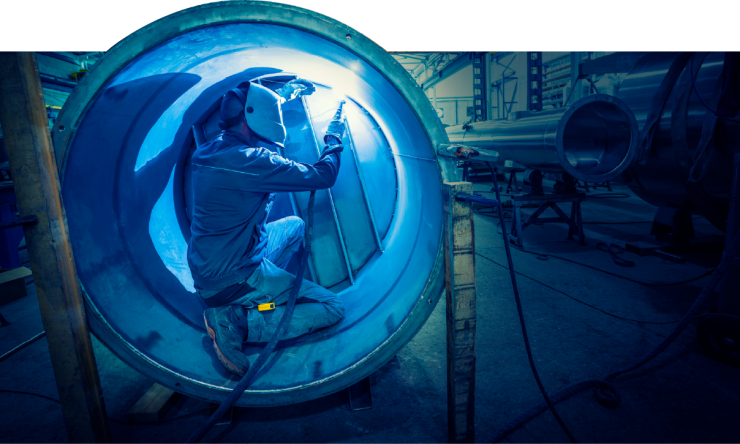 ASI utilizes the Lean operations thought process. Our management approach focuses on cutting out waste while ensuring quality. The process starts with identifying the needs of our customers and follows five key principles which include identifying value, mapping the value stream, creating flow, establishing a pull-based production system, and constantly seeking perfection. Kaizen is the philosophy of continuous improvement, and our goal is to create a culture where our employees seek perfection. This requires every employee to focus on small incremental changes, from the corner office to production, to help improve business practices. The ultimate goals are to increase efficiency, lower costs, increase productivity and provide a higher quality product.
ASI is committed to not only the well-being of our employees but also to our community. Throughout the year ASI participates in a multitude of community outreach events. We are dedicated to giving back to the local communities with our Time, Talent, and Treasures. Some of the past projects include cooperation with: ​
CAST – Chesapeake Area Shelter Team
NEST – Norfolk Emergency Shelter Team
BSA Fundraisers
American Diabetes Assoc. "TourdeCure"
Toys For Tots
Mission Trip Sponsorship
VSRF Sponsor ​
At ASI we take pride in our community. We encourage our employees to volunteer on their own and bring ideas for the company to support.