ELECTRICAL & MOTOR REWIND SERVICES
OVERVIEW
​Auxiliary System's customers benefit from a world-class electrical commercial industrial and marine ship repair facility. Auxiliary System's trained technicians can travel anywhere in the world to resolve electrical issues with circuit breakers, controllers, control panels, electric brakes, generators, motors, motor generators, switchboards, and transformers.

Our facilities and employees are capable of fabricating new electrical panels or customizing existing electrical panels to desired plans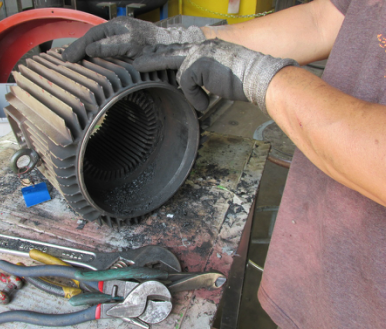 CAPABILITIES
Provide world-class electrical repair for commercial and U.S. Government industrial and marine ship repair
Ship's power distribution system repair and alteration
Mechanically and electrically disconnect, reconnect, and operationally testing shipboard equipment
Control panel manufacture and repair
Thermographic surveys
Electronic repair
Circuit breaker repair and testing
Troubleshoot motor and generator controls
Generator load testing
In-place commutator/collector ring repair
In-place Generator/switchboard cleaning
NAVSEA Certified for Multi-pin connector repair/installation IAW NAVSEA Standard Item 009-73
Rewind shop services include:

AC/DC motor and generator recondition
AC/DC motor and generator rewind
Transformer rewind
Iron core lamination testing/repair
Dip tank and/or VPI System insulation
NAVSEA Certified to rewind AC induction and Synchronous motor random wound stators IAW NAVSEA Standard Item 009-113
Manufacture solenoid coils
EQUIPMENT
9,000 lb. capacity dynamic rotor balancer
900HP dynamic load tester
400HZ and 28VDC Helo start system certification equipment
Resistive and reactive load banks
Circuit breaker test/inspection equipment including a DLRO (Digital Low Resistance Ohmmeter)
DC and AC power test panels for shop testing motors
Six-foot square Varnish Dip tank and 48" diameter capable HeatTEK VPI system
Phenix iron core lamination tester
Baker surge and DC high potential test instruments
Baker AC Hi-pot testers
Thermal imaging camera
In-place dynamic balancing equipment
Bearing heaters
Shaft laser alignment equipment
Burnout and bake out ovens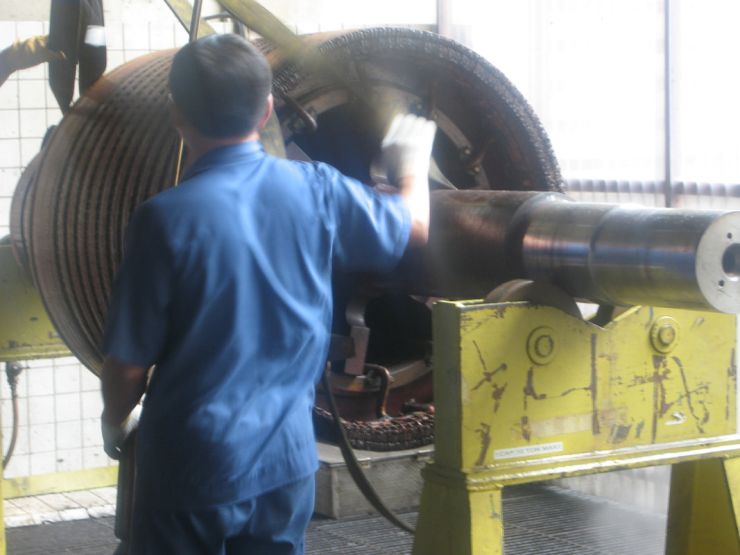 MOTOR REWIND
We excel at the repair of any rotating machinery. Our staff is comprised of electricians and mechanics, mostly retired Navy personnel with over twenty years of experience, and are proficient with the repair of marine and commercial distribution system components.
ASI is a proud member of EASA (Electrical Apparatus Services Association, Inc.)
PRODUCTION CAPABILITIES
AC/DC Motor and Generator recondition
AC/DC Motor and Generator rewind
48-Inch diameter VPI System
Motor Controller repair
Transformer / Coil recondition and rewind
Overhaul Brake assemblies
UL certified for explosion-proof Three Phase Motors
Pump overhaul and repairs
Dynamic Balancing up to 6,000 lbs.
Machine Shop services to include:
Fabrication of new shafts
Repair and straightening shafts
Build bearing Shaft and Housing fits
REMOTE / IN-PLACE SERVICES
Truing collector rings and commutators
Switchboard cleaning
Electric Motor and Generator cleaning
Dynamic balancing
Generator load testing
Motor alignment
Bearing and Seal replacement
Electrical Systems repair and troubleshooting
In-Shop Services
Electrical AC / DC Motor Cleaning, Laminating, Rewinding, Repair, and Testing.
Electrical AC Single & Three Phase Testing
Adherence To ABR, ANSI, ASME, DoD Standard Items, IEEE, ISO, & NEMA Guidelines & Standards
Circuit Breaker Test & Repair
Air, Insulated, Molded, Vacuum Interrupting, Circuit Breakers
Circuit Breaker Infrared Thermo-Imaging
Circuit Over Current Trip Calibration
Circuit Solid State Retrofitting
Electrical Controller Troubleshoot, Refurbishment, and Test
Electrical Services Comply With Commercial & Military (DoD) Specifications
Electrical Transformer / Coil Rewind / Repair
Electrical Maintenance & Repair of Electric Motors & Shafts
Electrical Generator Repair, Trouble Shooting, & Upgrades
Electrical Multi-Voltage AC DC Test Center
Qualified Electrical Technicians
UL Member & Certified for Explosion Proof Generators & Motors
Remote Capabilities & Services
AC Pro Whipp & Bourne Solid State Trip Electrical Breaker Unit Upgrades
Adherence To ABR, ANSI, ASME, DoD Standard Items, IEEE, ISO, & NEMA Guidelines & Standards
Electrical Load Testing (60Hz, 400 Hz, & DC)
Mobile Shop Capabilities, work done in Dubai, Japan, West Coast US
Electrical Switchboard Control Panel Cleaning & Repair
Electrical Switchboard Control Panel Retrofitting & Upgrades
Electrical Maintenance
Electrical Troubleshooting
Electrical Generator / Motor Clean & Refurbishment, repair, troubleshooting, and upgrade
Electrical Rotor / Shaft Balancing
Thermographic Inspection (Infrared Thermo-Imaging)
Services Comply with Commercial, Industrial, & Military (DoD) Specifications
---
Call Auxiliary Systems today at 1-800-613-5675 to get in touch with our Electrical Team Manager!
315 East 25th Street, Norfolk, VA