OVERVIEW
Auxiliary Systems, Inc. has earned the reputation as a leader in providing our customers a quality product at a fair price and on-time delivery.
​At Auxiliary Systems, Inc., we provide Conventional Machining services, CNC Turning and CNC Milling. Whether it's to repair a part or manufacture a new part as per your specifications, we can provide you with a quality product. From one–of–a–kind part or component to complete production runs, you can be assured the job will be done to your complete satisfaction.
Our Machine Shop utilizes approximately 7,000 square feet of our 35,000 square foot facility, in the Midtown Industrial Park, located in Norfolk, Virginia. Auxiliary Systems is situated in the center of Hampton Roads Virginia, which gives us a full venue of shipping and delivery options for our customers.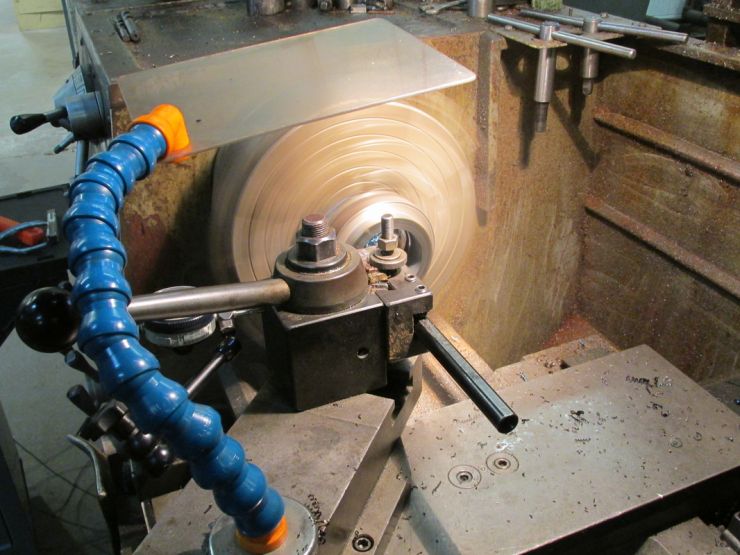 CAPABILITIES
Providing conventional machining services, CNC turning, and CNC milling by experienced, qualified, and certified personnel.
Repairing parts, reverse engineering parts, and manufacturing parts
All precision measuring instruments are calibrated and certified on an ongoing basis to ensure all work is accomplished within customer specifications.
Electroplating. Trained and certified by Sifco ASC. Nickel and Silver plating available.
CNC equipment includes:
2 Axis Cincinnati Cinturn Turning Center - Capacity: 10" O.D. X 36" Length
3 Axis Cincinnati Sabre 1250 Vertical Machining Center - Capacity: 50" X 29 ¾" X 25"
3 Axis Cincinnati Sabre 750 Vertical Machining Center - Capacity: 30" X 15" X 18"
3 Axis Cincinnati TC-3000 Horizontal Machining Center - Capacity: 120" X 40" X 40"
2 axis Fryer Turning Center - Capacity 10" OD x 40"
3 axis Fryer Vertical Machining Center. Capacity 50"x 25"x 24"
Software: MasterCam X4: CAD/CAM Design and manufacturing software
Software: Alibre Design Expert, ver. 10, 3D CAD Design software
Precision conventional machining equipment includes:
Imperial Lathe - Capacity: 60O.D. X 120" Length
Jet Tool Lathe - Capacity: 13" O.D. X 36" Length
Colchester Lathe - 20" O.D. X 60" Length
20" Lodge & Shipley Lathe - Capacity: 20" O.D. X 120" Length
17" Standard Modern Lathe - Capacity: 17" O.D. X 48" Length
Webb Lathe - 15¾" O.D. X 36" Length
Cincinnati Vertical Milling Machine - Capacity: 50" X 15" X 12
Three Bridgeport Vertical Turret Mill - Capacity: 24" X 9" X 10"
Index Milling Machine - Capacity: 30" X 10"
Sharpe lathe 15" OD x 40" length
Jafri vertical and horizontal milling machine. 36" x 10"
Index vertical milling machine. 30" x 10"
Cincinnati 3 ½" Horizontal Boring Mill, Table Size: 60" X 36", Travel: 40" X 48" X 36"
Niles Vertical Turret Lathe, Capacity: 42" O.D. X 30" Length
Rogers Vertical Turret Lathe, Capacity: 30" Diameter
Barber-Colman 16-36 Gear Hobber, Capacity: 16" Diameter X 36" Long
Kao Ming Radial Arm Drill Press
Cincinnati Bickford Radial Arm Drill Press
Drill Bit Sharpener
Drill Doctor Drill Bit Sharpener
Capacity: Up to ¾" Diameter Drill Bit
HE and M Automatic Horizontal Band Saw, Capacity 12"

Kalamazoo vertical band saw
---
Call Auxiliary Systems today at 1-800-613-5675 to get in touch with our Team Manager!
315 East 25th Street, Norfolk, VA