PIPE BENDING AND FITTING SERVICES
OVERVIEW
ASI Pipefitters perform some of the most precise work in the ship repair industry. There is a large amount of piping installed on US Navy and commercial ships with a limited amount of space aboard vessels to work. Our pipefitters must repair and install many complex piping systems. All our Pipefitters are trained in the fundamental skills and techniques of piping fabrication, installation, inspection, and testing. We also offer a joint apprenticeship class in pipe fitting with a commercial company in Suffolk, VA using the NCCER curriculum. Additionally, we offer professional pipe bending services with one of the largest pipe benders in the Port of Virginia utilizing our Coast Wallace Model 6RD Pipe Bender.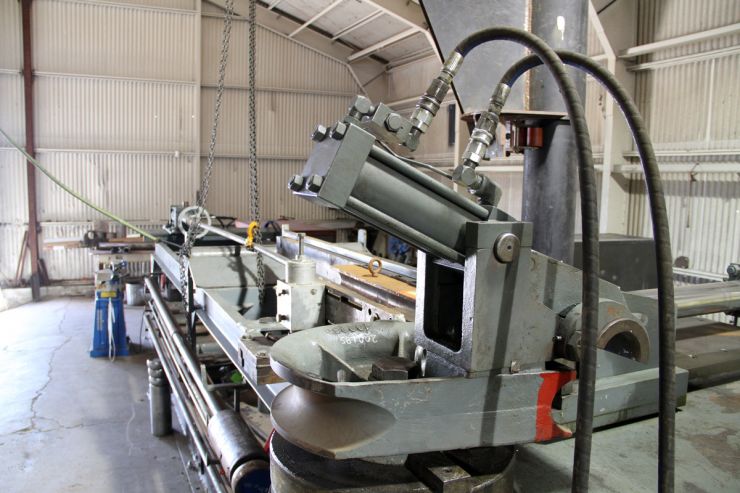 QUALIFICATIONS:
Pipe Fit Qualified
Titanium Fit Up Qualified
Pipe Welding Stick, Tig and MiG Qualified
Lokring Qualified
Viega Mega Press Qualified
Swedge Lock Qualified
Quality Assurance Qualified
Competent Person Qualified
Silver Braze Qualified Grade 3 & 5
Pipe Welding Certified for the following material:
Titanium, CU/NI 90/10 & 70/30, Stainless 316L & 304L, Aluminum, Carbon Steel, Galvanized
SYSTEMS:
Fuel
Potable Water
Steam
Lube Oil
CHT
High-Pressure Air
Structural.
EQUIPMENT
Pipe, Coast Wallace Model 6RD Pipe Bender with Mandrels up to 6"
Pipe, Tubing Benders with Mandrel — ¼" to 6"
Titanium Argon Purge Chambers in the cleanroom.
Titanium Argon Purge Bag for on ship Welding
Acetylene, Oxygen, Argon, and Nitrogen Rigs
Brazing/Cutting Torches
Welding Machines
Pipe Threader
Pipe Belt Saw
Hydrostatic/High-Pressure Air Testing pumps and manifolds.
Water Jet certain fittings
Machine certain fittings
Acid Wash
TESTING
Hydrostatic Testing
High-Pressure Air Testing
Boundary Testing
Leak Testing
---
Call Auxiliary Systems today at 1-800-613-5675 to get in touch with our Team Manager!
215 East 25th Street, Norfolk, VA